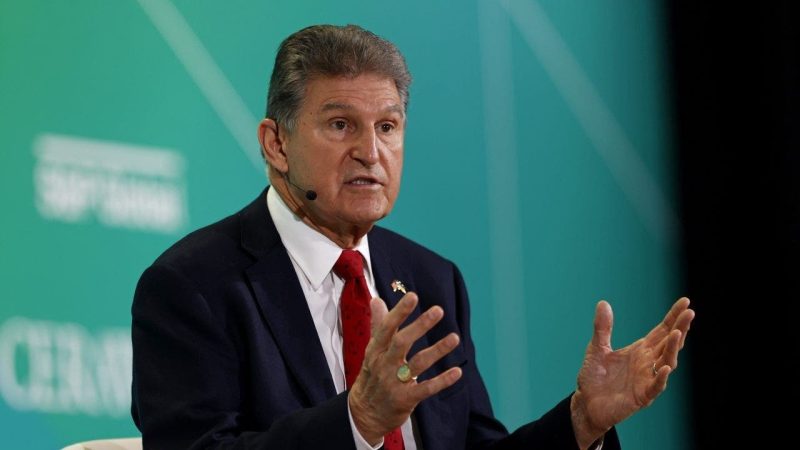 Manchin makes plea to DA Bragg after Trump indictment: 'Remove all doubt'
Sen. Joe Manchin, D-W.Va., said Sunday that Manhattan District Attorney Alvin Bragg must 'remove all doubt' in the American judicial process after a grand jury voted Thursday to indict former President Trump following the DA's years-long investigation.
During an appearance on CNN's 'State of the Union,' Manchin argued that the indictment risks further dividing Americans and battering their trust in the justice system.
'It's a very sad time for America to go through what we're going through now,' he said. 'People are being divided, and they think that justice might be biased. We have to make sure that we wait to see what comes out next week, and I hope they do their job. And I've said this, no one's above the law, but no one should be targeted by the law, especially through the political process. So we'll just wait and see next week. I hope they are very thorough.'
CNN anchor Dana Bash asked Manchin to clarify whether he thinks Trump, who is the current front-runner in the 2024 Republican presidential race, is being targeted by Bragg for political reasons.
'Is that what you think is going on here? That he is a political target?' she asked.
'No, I'm saying you have to remove all doubt,' Manchin replied. 'You have to remove all doubt. You have to make sure you cross every t and dot every i, as they say. But you know that no person, the president, myself or anybody else in Congress, no matter what your status is, in the United States of America, you're not above the law. And on the other hand, no person should be targeted by the law either. So let's make sure that's cleared up, and let's see where it goes.'
There's a 'segment of society who believes that maybe it's biased, that the system doesn't work for all,' Manchin said during a subsequent appearance on NBC News' 'Meet the Press.'
'We must come together. The American people want us to do our job,' he continued. 'Let's wait until what comes out next week. Let's see the direction this goes. But the bottom line is it's a very sad time in America. You have geopolitical unrest around the world. Just think of the people who don't wish our society or our form of democracy to work, whether it be China, Russia or whoever. They're looking and saying, 'Oh my goodness, let's just sit back and kind of watch this melee unfold.' Well, I want to show them that as Americans, we can work together.'
Trump raked in more than $5 million in donations in the 48 hours after he was indicted on Thursday. The exact charges of the indictment are still under seal, but Trump attorney Joe Tacopina said Thursday evening Trump could face more than 30 counts next week when he's arraigned.
The charges relate to Trump's role in sending alleged hush payments to adult film star Stormy Daniels in an effort to prevent her from speaking out about their relationship.
The former president is expected to travel from his home in Mar-a-Lago to New York City on Monday before spending his final night before his arraignment in Trump Tower.
The Secret Service will be attending him as New York authorities book the president, take his fingerprints and photograph him on Tuesday.
Fox News' Anders Hagstrom contributed to this report.
This post appeared first on FOX NEWS