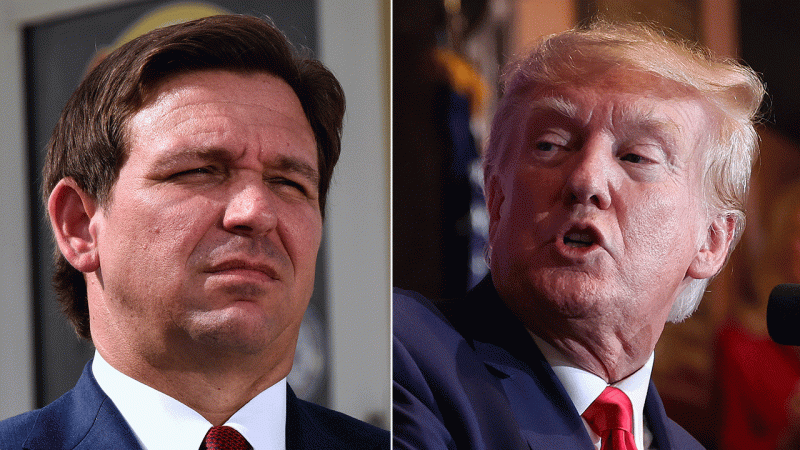 DeSantis leaves out key detail when discussing rival Trump's indictment
Florida Gov. Ron DeSantis has slammed Manhattan District Attorney Alvin Bragg Jr.'s indictment of former President Donald Trump, while avoiding using Trump's name in speeches.
'Now you have this Manhattan district attorney who has made his whole platform from when he got elected was that he was going to downgrade as many felonies as possible to misdemeanors,' DeSantis said during an event in Pennsylvania on Saturday.
'He was going to keep as many people out of jail, even habitual criminals as possible. And he was going to go light on all these things as part of, quote, criminal justice reform,' DeSantis added. 'So, that's his posture. He doesn't want to charge people with felonies. So, now he turns around purely for political purposes and indicts a former president on misdemeanor offenses that they're straining to try to convert into felonies.'
DeSantis, a potential rival to Trump in the Republican primary, was seemingly alluding to Bragg's successful indictment of Trump last week, though the Florida governor declined to name either individual.
DeSantis said the indictment was an example of the law being 'weaponized for political purposes' by the left, who are using it to 'target their political opponents.'
'I can tell you this: These [billionaire George] Soros-backed DAs, they are a menace to society,' DeSantis continued. 'They are a menace to the rule of law. And I'm just proud to say that when we had one of those days in Tampa that said he wasn't going to enforce some of our duly elected, duly enacted laws in the state of Florida, we didn't let that stand. I removed him from his post, and he is out.'
DeSantis struck a similar tone during a different speech in Long Island, New York, on Saturday, again appearing to defend Trump without using his name.
'His whole thing is he doesn't want people to be in jail, he wants to downgrade felonies to misdemeanors. … And then he turns around, does a flimsy indictment against a former president of the United States,' DeSantis said of Bragg, according to the New York Post.
Trump is scheduled to appear for arraignment in the case, which centers around alleged 'hush money' payments to adult film star Stormy Daniels, on Tuesday in New York.
DeSantis' office did not immediately respond to a Fox News request for comment.
This post appeared first on FOX NEWS