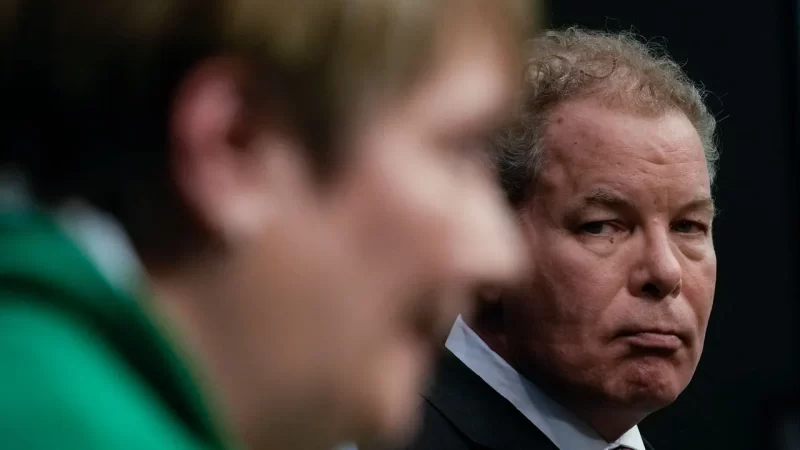 Trump indictment unlikely to sway Wisconsin Supreme Court race
The indictment of former President Donald Trump will likely have little impact on the high stakes Wisconsin Supreme Court race to be decided next week, as Democrats try to flip majority control of the court with the fate of abortion access in the state on the line, those closely watching the contest said Friday.
Trump has not been directly involved in the race, did not endorse anyone, and the Republican-backed candidate has tried to distance his connections with the former president and the GOP. Additionally, Trump's support among Republicans appears to be waning in the battleground state that he barely won in 2016 and then lost by a similar margin in 2020.
'While this (indictment) may get the juice flowing with some of his supporters, some may have a head shake and shoulder shrug,' said longtime Republican strategist and former state GOP party leader Brandon Scholz. 'This indictment thing isn't really tied into this race. It is a Trump issue.'
Charles Franklin, a pollster for the Marquette University Law School, said the indictment could spur a bump in turnout both among Trump's most ardent supporters and his most fervent Democratic opponents. But he didn't think it would fundamentally alter the dynamics of the Supreme Court race between Republican-backed Dan Kelly and Democratic-backed Janet Protasiewicz to be decided Tuesday.
'The classic October surprises are things that involve the candidates themselves, not someone else,' Franklin said. 'For that reason, I think there's probably less reason to think this news dramatically changes the Supreme Court race because people would have to know enough to connect Donald Trump to the Supreme Court race and have not been planning to vote, or vote differently, in Tuesday's election.'
Protasiewicz's campaign spokesperson, Sam Roecker, said Friday, 'We don't expect voters to be distracted by what's happening in New York.'
'We're focused on winning a critical election in four days that will have long-term consequences for millions of Wisconsinites when it comes to issues like reproductive rights and the strength of our democracy,' he said. 'We know voters are focused on this race because it's an opportunity to return fairness and impartiality to the Wisconsin Supreme Court.'
Kelly told reporters after a campaign stop Friday in Watertown that he had 'no idea' whether the indictment would motivate people to vote in his race.
Supporters of Kelly, who previously served on the state Supreme Court, are hoping the indictment will fire up the GOP base like the raid on Trump's Mar-a-Lago home the day before Wisconsin's August GOP gubernatorial primary did.
Although Trump endorsed Kelly in his run for the court in 2020, Kelly did not seek a Trump endorsement this time and wouldn't even commit to accepting one if it had been offered.
Kelly worked for the Wisconsin Republican Party and the Republican National Committee after he lost the 2020 election. He also advised the state's top Republicans on their scheme after Trump's loss in 2020 to have fake electors cast Wisconsin's electoral voters for him.
'I am running against probably one of the most extreme partisan characters in the history of this state.' Protasiewicz said during their only debate in March.
'Again, this is you being quick to lie,' Kelly responded.
Kelly insisted throughout the campaign that his personal politics are irrelevant and emphasized that he's dedicated to the 'rule of law.'
The indictment Thursday came after 10 days of early voting across the state. As of Friday morning, nearly 353,00 absentee ballots had been returned. Early voting ends Sunday.
'In the last days before an election, things have been set in motion for a long time,' said Franklin, the pollster. 'People have already been making up their minds whether to vote or not and, if so, who to support. In that sense, these late-breaking things don't shift support tremendously, particularly when they don't involve the candidates.'
The winner Tuesday will determine majority control of the court, which is expected to rule on the fate of Wisconsin's near-total abortion ban, Republican gerrymandered legislative districts and voting rights heading into the 2024 presidential election. The court came within one vote of overturning President Joe Biden's win in the state in 2020.
Protasiewicz, a Milwaukee County circuit judge, has tried to make the race a de-facto referendum on abortion, while also blasting Kelly for his ties to Republicans and his work for Wisconsin Right to Life.
Abortion rights groups, including Planned Parenthood, are behind Protasiewicz. The Wisconsin Democratic Party has given her campaign nearly $9 million, helping her to get an advantage over Kelly in television advertising.
Kelly's backers include the state and local GOP chapters as well as GOP mega-donors Richard Uihlein and Diane Hendricks.
This post appeared first on FOX NEWS