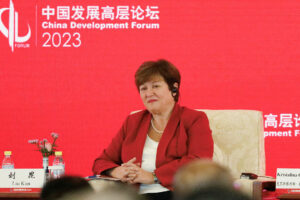 IMF chief says countries in stronger position should help others with debt woes
BOAO, China — Countries in a relatively stronger position should help vulnerable nations especially those under debt distress, International Monetary Fund (IMF) managing director Kristalina Georgieva said on Thursday.
The IMF chief said such assistance would be particularly important against the backdrop of high interest rates and currency depreciation.
"We urgently need faster and more efficient global mechanisms for providing debt treatments to these countries," Ms. Georgieva said at the Boao Forum for Asia, adding that such mechanisms would significantly benefit both debtors and creditors.
"Success would remove one important source of uncertainty to the global picture," she said.
Ms. Georgieva also said the IMF welcomes China's engagement in the Common Framework programme and participation in the new Global Sovereign Debt Roundtable.
The Boao Forum, often seen as Asia's equivalent to the World Economic Forum's annual meeting in Davos, Switzerland, is being held in the southern Chinese resort island of Hainan until Friday.
Ms. Georgieva also said countries need to work together to reinvigorate international trade in an equitable way for more people to benefit from globalization, and diversify supply chains based on economic logic.
She said IMF research showed the long-term cost of trade fragmentation could be as high as 7% of global gross domestic product, and Asia as a highly integrated region would be the most adversely affected by runaway fragmentation.
Governments also need to protect vulnerable people in their own countries who have been especially hit hard in the past three years, Ms. Georgieva said, referring to the impact of the COVID-19 pandemic.
"This means fiscal policy providing targeted support to those most in need or those most affected by food insecurity or the cost-of-living crisis." — Reuters