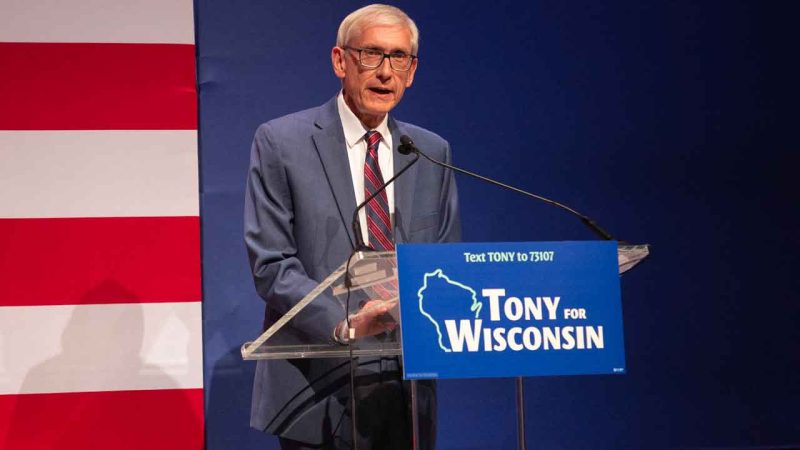 Wisconsin Gov. Evers orders flags lowered for recently-identified WWII soldier killed in action
Gov. Tony Evers has directed that flags to be flown at half-staff in the state Tuesday to honor a Wisconsin soldier who died in World War II and whose remains were recently identified.
Evers' order directs that U.S. flags and Wisconsin state flags be lowered to half-staff from sunrise to sunset Tuesday to honor U.S. Army Private First Class William LaVerne 'Sonny' Simon.
Simon's remains will be buried Tuesday with full military honors in his hometown of Middleton, Wisconsin, nearly 80 years after he died in Germany.
'A decorated military veteran, Private Simon served our state and country well, giving his life in defense of the values and freedoms we hold most dear,' Evers said Monday in a statement.
Simon was a member of Company G, 2nd Battalion, 109th Infantry Regiment, 28th Infantry Division, when he was reported unaccounted for on Nov. 5, 1944, during the Battle of the Hürtgen Forest in Germany.
Simon's remains were later discovered and interred as unidentified in 1950 at the Ardennes American Cemetery. Those remains were sent in April 2019 to the Defense POW/MIA Accounting Agency laboratory for analysis and identification.
Evers said the remains were positively identified as Simon's due to the 'efforts of his surviving sister and brother' and work by the Defense POW/MIA Accounting Agency.
This post appeared first on FOX NEWS