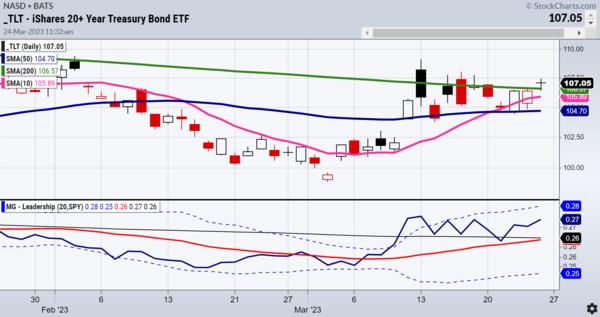 Keeping Up with 3 Key Ratios in a Trading Range
Friday:
Monday:
Over the weekend, our Daily covered 3 key ratios to help decipher the market action and the prevailing macro theme for the economy.
We started with the one between long bonds (TLT) and the S&P 500 (SPY).
All last week, long bonds outperformed the SPY with calls for recession. This week, so far, bond yields rose to 3.5%. While gold declined a bit along with semiconductors, WTI crude oil was up $70 a barrel and grains along with sugar prices rose. Looking at the TLT:SPY Monday, TLTs now are performing on par with SPY.
Recession fears over, hello stagflation?
Then, as if to support the stagflation theory, with yields rising and the indices in a trading range, silver continues to outperform gold.
Although silver prices also fell some, the ratio between silver and gold enters "inflation worry" zone.
For the 3rd ratio, we continue to look at the dollar to the Euro for clues. The dollar typically goes up when interest rates do. Yet the dollar declined against the Euro, now at 1.07.
So we have yields rising, silver outperforming, and the dollar declining.
Our Small Cap All-Stars Model had the best daily returns Monday after the bank issues began with good news. The Russell 2000 IWM could see a further bounce from here, yet remains stuck in a trading range. At least we are not seeing IWM head into recession territory.
Good news, market is optimistic about avoiding recession. Bad news, market has not dealt yet with the possibility of stagflation.
And then there is Bitcoin. Here's a note on Bitcoin from Holden and his weekly Cryptocurrrency update:
The most likely scenario from here is that we'll see Bitcoin go sideways for a short while in this new range until a new piece of major news comes out to force a break one way or the other. In the event of a breakdown from here, we would expect BTC to find support around the $25,000 level, while the clear target from here is to take out the psychological $30,000 level on a daily closing basis.
For more detailed trading information about our blended models, tools and trader education courses, contact Rob Quinn, our Chief Strategy Consultant, to learn more.
IT'S NOT TOO LATE! Click here if you'd like a complimentary copy of Mish's 2023 Market Outlook E-Book in your inbox.
"I grew my money tree and so can you!" – Mish Schneider
Get your copy of Plant Your Money Tree: A Guide to Growing Your Wealth and a special bonus here.
Follow Mish on Twitter @marketminute for stock picks and more. Follow Mish on Instagram (mishschneider) for daily morning videos. To see updated media clips, click here.
Mish discusses long bonds, Silver to Gold and the Dollar in this appearance on BNN Bloomberg.
Mish sits down with Kristen on Cheddar TV's closing bell to talk what Gold is saying and more.
Mish and Dave Keller of StockCharts look at longer term charts and discuss action plans on the Thursday, March 17 edition of StockCharts TV's The Final Bar.
Mish covers current market conditions strengths and weaknesses in this appearance on CMC Markets.
Mish sees opportunity in Vietnam, is trading SPX as a range, and likes semiconductors, as she explains to Dale Pinkert on ForexAnalytix's F.A.C.E. webinar.
Mish and Nicole discuss specific stock recommendations and Fed expectations on TD Ameritrade.
Coming Up:
March 30th: Your Daily Five, StockCharts TV
March 31st: Festival of Learning Real Vision "Portfolio Doctor"
April 3rd: Webinar with Bob Lang on Options Den
April 4th: The RoShowPod with Rosanna Prestia
April 24-26: Mish at The Money Show in Las Vegas
May 2-5: StockCharts TV Market Outlook
ETF Summary
S&P 500 (SPY): Needs to clear 400 and hold 390.Russell 2000 (IWM): 170 held, so maybe the ratios are implying no recession after all–180 resistance.Dow (DIA): 325 cleared now needs to hold.Nasdaq (QQQ): 305 support, 320 resistance.Regional Banks (KRE): Daily up reversal. Weekly more inside the range of the last 2 weeks.Semiconductors (SMH): Follow through on that key reversal w/ 250 support.Transportation (IYT): 219 is a level that has been like a yo-yo price.Biotechnology (IBB): Held key support at 125 area-127.50 resistance.Retail (XRT): Granny held 60; still in the game, especially since that is the January calendar range low.
Mish Schneider
MarketGauge.com
Director of Trading Research and Education