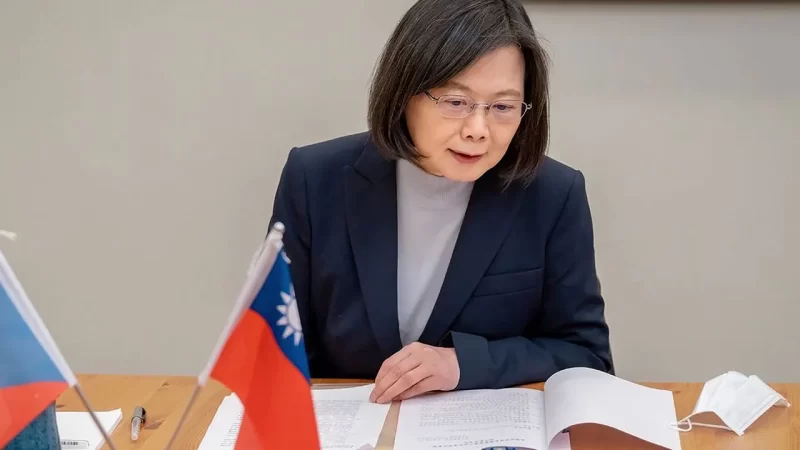 US says China has no reason to step up aggressive activity due to Taiwan's stopovers in the US
The Biden administration is putting out the word that planned stopovers in the United States by Taiwan President Tsai Ing-wen in the coming weeks fall in line with recent precedent and should not be used as a pretext by China to step up aggressive activity in the Taiwan Strait.
Taiwan's office of the president confirmed on Tuesday that Tsai is tentatively scheduled to transit through New York on March 30 before heading to Guatemala and Belize. She's expected to stop in Los Angeles on April 5 on her way back to Taiwan. The office did not provide details of her itinerary while in the U.S.
Ahead of Taiwan's announcement, senior U.S. officials in Washington and Beijing have underscored to their Chinese counterparts in recent weeks that transit visits through the United States during broader international travel by the Taiwanese president have been routine over the years, according to a senior administration official. The official spoke on the condition of anonymity to discuss the sensitive matter.
In such unofficial visits in recent years, Tsai has met with members of Congress and the Taiwanese diaspora and has been welcomed by the chairperson of the American Institute in Taiwan, the U.S. government-run nonprofit that carries out unofficial relations with Taiwan. White House National Security Council spokesman John Kirby said the planned stopovers—administration officials stress they are not official visits—are 'business as usual' and consistent with longstanding U.S. policy.
'There's no reason for China to overreact,' Kirby said about the expected unofficial visit. 'Heck, there's no reason for China to react.'
Tsai transited through the United States six times between 2016 and 2019 before slowing international travel with the coronavirus pandemic. In reaction to those visits, China rhetorically lashed out against the U.S. and Taiwan.
State Department deputy spokesman Vedant Patel said 'the unofficial nature of our relations with Taiwan remains unchanged.'
The Biden administration is trying to avoid a replay of the heavy-handed response by China that came after then-House Speaker Nancy Pelosi visited Taiwan last year.
Following Pelosi's August visit, Beijing launched missiles over Taiwan, deployed warships across the median line of the Taiwan Strait and carried out military exercises near the island. Beijing also suspended climate talks with the U.S. and restricted military-to-military communication with the Pentagon.
House Speaker Kevin McCarthy, a California Republican, has said he would meet with Tsai when she is in the U.S. and has not ruled out the possibility of traveling to Taiwan in a show of support.
Beijing sees official American contact with Taiwan as encouragement to make the island's decades-old de facto independence permanent, a step U.S. leaders say they don't support. Pelosi, D-Calif., was the highest-ranking elected American official to visit the island since Speaker Newt Gingrich in 1997. Under the 'one China' policy, the U.S. recognizes Beijing as the government of China and doesn't have diplomatic relations with Taiwan but has maintained that Taipei is an important partner in the Indo-Pacific.
U.S. officials are increasingly worried about China's long-stated goals of unifying Taiwan with the mainland and the possibility of war over Taiwan. The self-ruled island democracy is claimed by Beijing as part of its territory. The 1979 Taiwan Relations Act, which has governed U.S. relations with the island, does not require the U.S. to step in militarily if China invades but makes it American policy to ensure Taiwan has the resources to defend itself and to prevent any unilateral change of status by Beijing.
The difficult U.S.-China relationship has only become more complicated since Pelosi's visit.
Last month, President Joe Biden ordered a Chinese spy balloon shot out of the sky after it traversed the continental United States. And the Biden administration in recent weeks has said that U.S. intelligence findings show that China is weighing sending arms to Russia for its ongoing war in Ukraine, but it does not have evidence that suggests Beijing has decided to follow through on supplying Moscow.
The Biden administration postponed a planned visit to Beijing by Secretary of State Antony Blinken following the balloon controversy but has signaled it would like to get such a visit back on track.
The White House on Monday also said officials are in talks with China about possible visits by Treasury Secretary Janet Yellen and Commerce Secretary Gina Raimondo focused on economic matters. Biden has also said he expects to soon hold a call with China's Xi Jinping.
Kirby said 'keeping those lines of communication open' is still valuable.
Presidents Vladimir Putin and Xi met in Moscow on Tuesday for a second day of talks, the first face-to-face meeting between the allies since before Russia launched its Ukraine invasion more than a year ago.
The Taiwanese government earlier this month said that Tsai planned stops in New York and Southern California during an upcoming broader international trip.
This post appeared first on FOX NEWS