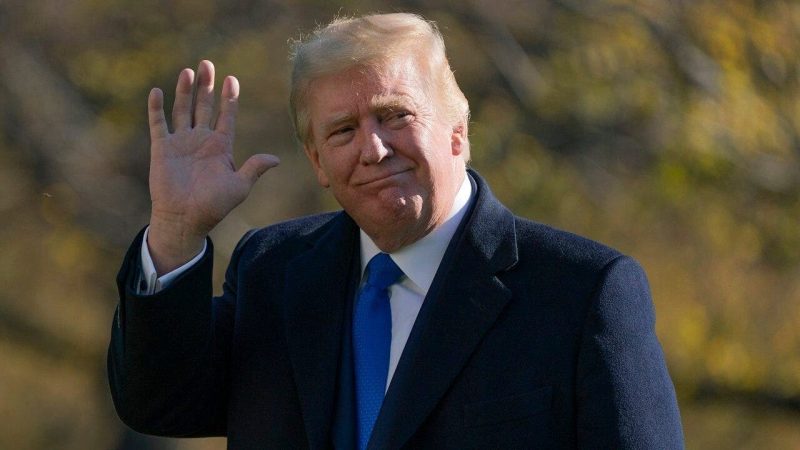 Tied to Trump: New York DA's actions have some Republicans rallying to the former president
After the 2022 midterm election, political observers thought many congressional Republicans would finally abandon former President Donald Trump.
If anything, a pending indictment of the former president seemed to only solidify the resolve of many Republicans to align themselves with Trump. 
After Rep. Kevin McCarthy, R-Calif., finally secured the House speaker's gavel on the 15th ballot in a post-witching hour vote, the former president was one of the first people he thanked.
A cadre of House Republicans is now backing investigations into the 2020 election. Others want a probe into the Jan. 6 riot and the treatment of Jan. 6 defendants. The release of additional video footage from Capitol security cameras reignited a debate about what went down that day.
But word that Manhattan District Attorney Alvin Bragg may indict the former president really prompted House Republicans to close ranks around Trump.
'It's very concerning,' said Rep. Monica De La Cruz, R-Texas. 'I think that Kevin McCarthy will have an investigation on this.'
McCarthy infused the House into the prospective indictment of the former president shortly after Trump suggested that authorities would 'arrest' him on Tuesday. McCarthy quickly sent out a tweet asking the House to probe the motivations and potential communications by Bragg.
By Monday, House Judiciary Committee Chairman Jim Jordan, R-Ohio, demanded answers from Bragg about money spent on a possible prosecution. 
'The Federal District of New York (said) this wasn't something they were going to pursue. The previous District Attorney (said) this is something they weren't going to pursue. And even this District Attorney said (he) wasn't going to pursue it. And then what happened? President Trump announces he's running for re-election and, 'Shazam!', now we're going to pursue it,' thundered Jordan.
Rep. Mark Alford, R-Mo., sought two audiences with Trump in recent days — including a fundraiser at Mar-a-Lago in Palm Beach, Florida. Alford's view of Trump is emblematic of Republicans who stand foursquare behind the former president. 
'We need the president back behind that Resolute Desk. Who's going to take control? Who's going to steer us to greatness?' asked Alford. 'I think President Trump is going to do that. I think (the possible indictment) is going to be a minor distraction.'
This is the challenge facing congressional Republicans. How much do they align themselves with Trump for their own political benefit — or even to gin up the base and Trump loyalists? And how much do they try to put distance between themselves and the former president?
Some Republicans concede privately that Trump's possible legal troubles are bad for the GOP. But few will say much about that publicly. Silence is apparently golden. A Trump prosecution again makes the former president the center of attention. His gravitational political pull remains unmatched, sucking in other political star systems, even if they think it's better to head the other way.
And so, what is the political universe talking about? Trump and how Bragg may wrong him — even if some Republicans think it's best to move on.
House Republicans buzzed privately behind closed doors about a possible indictment during their annual policy retreat this week in Orlando, Florida. However, McCarthy tried to downplay the rhubarb about a possible indictment, attempting to steer the conversation to energy production and how he was reforming the House. The speaker lectured reporters when they asked about Trump's shadow looming over the conference. 
'I know you have asked me this question several times all during this issues conference. And then you'll come back (with) 'It dominates the conference.' No. We are not talking about this in our conference. You're just asking about it. So it only dominates your asking,' he said.
Other Republicans tried to focus on policy, suspecting the Trump saga will blow over — even if most Trump sagas never truly blow over. 
'This will be the kind of thing that gobbles up the political headlines for a week. Maybe a month. Or maybe longer,' said Rep. Dusty Johnson, R-S.D. 'We can be more focused on securing the border. Balancing the budget and getting ready for our strategic competition with China.' 
A week? A month?
While the former president's latest legal issue may pose an internal conundrum for Republicans, the GOP knows a possible indictment riles up Trump loyalists and ignites the GOP base. Most Republicans continue to follow the '12th Commandment' of Republican politics. Late President Ronald Reagan created what GOPers christened the '11th Commandment' during his 1966 campaign for California governor: 'Thou shalt not speak ill of any fellow Republican.' The '12th Commandment' for Republicans might be not crossing Trump, lest he excoriate you at a rally or call you 'Ron DeSanctimonious.' 
Considering the present political environment, most Republicans are willing to stand behind the former president.
'If the defendant wasn't Donald Trump, this wouldn't be brought by a DA,' said Rep. Kelly Armstrong, R-N.D. 'I think we understand unfairness. We understand politicization.'
Republicans also converted the latest legal battle facing Trump into a political wedge issue. GOPers often harp on crime problems in big cities run by Democrats. The party targets what it believes are lenient prosecutors who are 'soft on crime.' 
The fact that New York, the biggest city in the nation, is run by Democrats and sees spiking crime is a political trifecta for Republicans — to say nothing of their opportunity to target Bragg.
'We see crimes not being prosecuted not only in New York City, but across the country by progressive prosecutors,' said House Administration Committee Chairman Bryan Steil, R-Wisc.
'You have a highly partisan DA in New York who refuses to prosecute crimes in his own areas but is going after a former President five years past the statute of limitations,' said De La Cruz.
'This is just the Manhattan-borough DA,' said McCarthy, suggesting that Bragg should focus his attention on local issues rather than Trump, who is seeking office again.
'It is political persecution. It is quite simple that this DA does not want President Trump to be president again,' said Alford. 'They're going to even go after his parking tickets if they can try to disqualify him from becoming president again.'
Republicans also use the possible prosecution to artfully suggest their concern isn't about the former president.
'We're not coming to defend President Trump. What we're coming to defend is equal justice in America,' argued McCarthy. 
So Republicans don't want to talk about the possible indictment of former President Trump. But circumstances forced them to talk about former President Trump. This is exactly what Democrats want — and why many political analysts and some Republicans thought the GOP would finally cut the former president loose after the midterms. Democrats and many middle-of-the-road voters see him as toxic. But the more the GOP discusses the former president, that means they're talking less about President Biden, the economy or other issues which bedevil Democrats. 
That's why Democrats generally clam up on this issue.
Reporters asked Senate Majority Leader Chuck Schumer, D-N.Y., if he had confidence in Bragg. 
'I think it's premature to comment on what's happening, and we'll have to wait and see what he does,' said Schumer. 
So for now, Republicans are rallying around Trump. It's unclear if that's good politics in the long run, but that's where the party stands. 
Democrats also hope Republicans remain committed to the former president. They saw how Trump hamstrung Republicans in the midterms.
You need a foil in politics, and Democrats certainly believe they have one in Trump.
This post appeared first on FOX NEWS