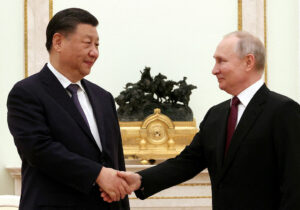 Putin meets 'dear' friend Xi in Kremlin
VLADIMIR Putin and his "dear friend" Chinese leader Xi Jinping planned more talks on Tuesday after a Kremlin dinner where the isolated Russian president curried favor with his most powerful ally in the face of Western opposition to the war in Ukraine.
Coming just days after an international court accused Mr. Putin of war crimes, Washington denounced Mr. Xi's visit, saying it showed Beijing was providing Moscow with "diplomatic cover" to commit more crimes.
Making his first trip abroad since obtaining an unprecedented third term earlier this month, Mr. Xi has been trying to portray Beijing as a potential peacemaker in Ukraine, even as he deepens economic ties with his closest ally.
Mr. Putin and Mr. Xi greeted one another as "dear friend" when they met in the Kremlin on Monday, and Russian state news agencies later reported they held informal talks for nearly 4-1/2 hours, with more official talks scheduled for Tuesday.
In televised comments, Mr. Putin told Mr. Xi he viewed China's proposals for resolution of the Ukraine conflict with respect. Mr. Xi, for his part, praised Mr. Putin and predicted Russians would re-elect him next year. 
Moscow has been publicly promoting plans for a visit by Mr. Xi for months. But the timing gave the Chinese leader's personal support new meaning, after the International Criminal Court (ICC) issued an arrest warrant on Friday accusing Mr. Putin of war crimes for deporting children from Ukraine.
Denying the charges, Moscow said it has taken in orphans to protect them, and it opened a criminal case against the ICC's prosecutor and judges. Beijing said the warrant reflected double standards.
"That President Xi is traveling to Russia days after the International Criminal Court issued an arrest warrant for President Putin suggests that China feels no responsibility to hold the Kremlin accountable for the atrocities committed in Ukraine," US Secretary of State Antony Blinken said.
"Instead of even condemning them, it would rather provide diplomatic cover for Russia to continue to commit those grave crimes."
White House spokesman John Kirby said Mr. Xi should use his influence to press Mr. Putin to withdraw troops from Ukraine, and Washington was concerned that Beijing might instead call for a ceasefire that would let Russian troops stay.
China has released a proposal to solve the Ukraine crisis, largely dismissed in the West as a ploy to buy Mr. Putin time to regroup his forces and solidify his grip on occupied land.
Foreign policy analysts said while Mr. Putin would be looking for strong support from Mr. Xi over Ukraine, they doubted his Moscow visit would result in any military backing.
Washington has said in recent weeks it fears China might arm Russia, which Beijing has denied.
Yu Jie, senior research fellow, Asia-Pacific Programme, at Chatham House in London, said Mr. Xi's entourage does not include any senior members from the People's Liberation Army.
"This may send a clear message that Beijing is unlikely to offer any direct military support to Moscow despite what some pundits have asserted," she said.
Kyiv, which says the war cannot end until Russia pulls out its troops, cautiously welcomed Beijing's peace proposal when it was unveiled last month.
Ukrainian President Volodymyr Zelensky has said that China arming Russia could lead to World War III and has called for Mr. Xi to speak to him.
JAPANESE PM HEADS TO KYIV
While Mr. Putin hosted the Chinese president, the broadcaster NHK showed Japan's Prime Minister Fumio Kishida boarding a train at a Polish border town bound for Kyiv, to deliver a message of solidarity and support for Ukraine.
Mr. Kishida was set to meet with President Zelensky, Japan's foreign ministry said on Tuesday.
The invasion, which Russia calls a special military operation, has laid waste to Ukrainian cities, caused millions of people to flee, killed tens of thousands of civilians.
Several European Union countries agreed in Brussels on Monday to jointly buy 1 million rounds of 155 mm artillery shells for Ukraine. Both sides fire thousands of rounds per day in what has become a war of attrition.
The United States announced its latest military aid package, worth $350 million, including more ammunition for HIMARS rocket launchers, howitzers and Bradley Infantry Fighting Vehicles, plus HARM missiles, anti-tank weapons and river boats.
Fierce fighting continued Tuesday in the eastern Ukrainian town of Bakhmut, where Ukrainian forces have held out since last summer in the longest and bloodiest battle of the war.
However, Ukrainian military analyst Oleh Zhdanov said on YouTube that there had been fewer attacks along the frontline than usual in the past 24 hours.
"This could be linked to the visit to Moscow by the Chinese leader. Why? Because Putin is hardly likely to put aggression on display on the front lines, particularly as China has spoken in favor of a ceasefire and of an end to the war. So this is likely to continue throughout his two-day visit."
Moscow, which has not scored a major victory since August, has launched a massive winter offensive involving hundreds of thousands of freshly called-up reservists and convicts recruited from jails.
"They have lost the initiative practically throughout the length of the front line," Ukrainian military expert Oleksandr Kovalenko said on Ukrainian NV Radio. — Reuters