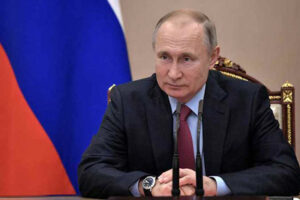 Putin to welcome Xi to Moscow under shadow of Ukraine war
Russian President Vladimir Putin will expect Chinese President Xi Jinping to show solidarity against western hegemony when he arrives in Moscow on Monday, while Xi will present China as a global peacemaker intent on brokering an end to the Ukraine war.
Mr. Xi will be the first world leader to shake Mr. Putin's hand since the International Criminal Court (ICC) issued an arrest warrant for the Russian leader on Friday over the deportation of Ukrainian children to Russia since the start of the war. Moscow rejects the charge. Read full story
Russia will present Mr. Xi's trip – his first since securing an unprecedented third term this month – as evidence that it has a powerful friend prepared to stand with it against a hostile West that it says is trying in vain to isolate and defeat it.
For Mr. Xi the visit will be a diplomatic tightrope, with China releasing a 12-point proposal to solve the Ukraine crisis, but at the same time strengthening ties with its closest ally. Read full story
In an article published at the start of his visit to Moscow, Mr. Xi said Beijing's proposal, which was released last month, reflects global views and seeks to neutralize consequences, but acknowledged that the solutions are not easy.
"The document serves as a constructive factor in neutralizing the consequences of the crisis and promoting a political settlement," Mr. Xi wrote in an article in Rossiiskaya Gazeta, a daily published by the Russian government, according to Reuters' translation from Russian.
"Complex problems do not have simple solutions," said Mr. Xi.
Ukraine and its western backers would be likely to dismiss any attempt to secure a ceasefire as little more than a ploy to buy Putin time to reinforce, and delay a widely expected Ukrainian counter-offensive.
And Ukrainian President Volodymyr Zelenskiy has previously made clear he will accept nothing short of Russia's full withdrawal from Ukrainian territory.
China's proposal contains only general statements and no concrete proposal on how to end the year-long war which has claimed tens of thousands of lives and forced millions to flee.
In an article for a Chinese newspaper, published on the Kremlin website late on Sunday, Mr. Putin said he had high hopes for the visit by his "good old friend" Mr. Xi, with whom he signed a "no limits" strategic partnership last year. He also welcomed China's willingness to mediate in the conflict.
"We are grateful for the balanced line of (China) in connection with the events taking place in Ukraine, for understanding their background and true causes. We welcome China's willingness to play a constructive role in resolving the crisis," Mr. Putin said.
The United States and its Western allies are deeply skeptical of China's motives, noting Beijing has refused to condemn Russia and provided it with an economic lifeline as other countries heap sanctions on Moscow.
The United States and NATO have recently accused China of considering supplying arms to Russia and warned Beijing against such a move. China has dismissed the accusations.
WAR CRIMES, ARTILLERY SHELLS
Justice ministers from around the world will meet in London on Monday to discuss scaling up support for the International Criminal Court after it issued an arrest warrant for Putin.
"We are gathering in London today united by one cause: to hold war criminals to account for the atrocities committed in Ukraine during this unjust, unprovoked and unlawful invasion," British Deputy Prime Minister Dominic Raab said on Sunday.
Several European Union countries will sign an agreement on Monday in Brussels to buy 155 mm artillery shells for Ukraine, with the first orders possibly placed by the end of May.
Ukraine has identified the supply of 155 mm shells as a critical need, with both sides firing thousands of artillery rounds every day.
In Ukraine, fierce fighting continued in the eastern town of Bakhmut with each side launching counter offensives. Ukrainian forces have held out in Bakhmut since last summer in the longest and bloodiest battle of the year-long war.
"There is no way of knowing of the outcome at this time…The front line is dynamic in nature," Ukrainian military analyst Oleh Zhdanov said in comments on YouTube.
Russia's Wagner mercenary group, which is spearheading the assault on Bakhmut and has suffered heavy losses, plans to recruit approximately 30,000 new fighters by the middle of May, its founder Yevgeny Prigozhin said on Saturday.
In January, the United States assessed that Wagner had about 50,000 fighters in Ukraine, including 40,000 convicts Prigozhin had recruited from Russian prisons with a promise of a free pardon if they survived six months.
Ukrainian officials have claimed that some 30,000 of Wagner's fighters have deserted or been killed or wounded, a figure that could not be independently verified. – Reuters