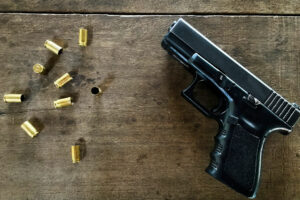 Hate crimes in United States surged 11.6% in 2021
WASHINGTON — Hate crimes in the United States surged 11.6% in 2021, with the largest number motivated by bias against Black people, followed by crimes targeting victims for ethnicity, sexuality and religion, the FBI said in a report released on Monday.
The FBI said reported hate crime incidents rose to 9,065 in 2021 from 8,120 in 2020.
The bureau said 64.5% of hate crime victims in 2021 were targeted because of their race, ethnicity or ancestry bias, while 15.9% were targeted because of sexual-orientation and 14.1% due to religion.
The largest number, some 2,233 incidents, were motivated by anti-African American bias, the report found.
Of the religion-based hate crimes in 2021 cited in the report, a little more than half targeted Jewish people.
Some 948 of the reported crimes were motivated by anti-white bias, while there were 543 incidents targeting gay males and another 415 incidents involving members of the broader LGBTQ community.
Bias against Hispanics totaled 433 incidents, while the FBI reported 305 such incidents targeting Asians.
Attorney General Merrick Garland has made enforcement against hate crimes a top priority for the Justice Department.
In 2021, he expanded funding and other resources to states and municipalities to help track and investigate hate crimes, and ordered prosecutors to step up both criminal and civil investigations into such incidents.
"We are continuing to work with state and local law enforcement agencies across the country to increase the reporting of hate crime statistics to the FBI," said Associate Attorney General Vanita Gupta, the No. 3 official at the department.
"Hate crimes and the devastation they cause communities have no place in this country. The Justice Department is committed to every tool and resource at our disposal to combat bias-motivated violence in all its forms," Ms. Gupta said.
The FBI's new analysis marks the first time the bureau has been able to confidently report national hate crimes trends since it transitioned to a new data collection system.
Uniform crime data released by the FBI in October 2022 contained gaps, with only 52% of US law enforcement agencies reporting a full 12 months of 2021 information.
For its supplemental report, FBI officials said they were able to retroactively include crime data from some of the country's largest cities that had not yet made the switch to the new reporting format.
The nation's two largest cities — New York and Los Angeles — are now included in the hate crimes analysis reported on Monday, while Chicago was able to provide two quarters worth of data for the report.
FBI officials said they typically track the 130 most populous cities across 16 states to identify statistically significant trends. Of those, 96 cities were able to provide data for the new report.
Jonathan Greenblatt, chief executive of the Anti-Defamation League (ADL), said the report confirms that hate crimes reached "record high levels" in 2021.
The group, which collects its own criminal and non-criminal data on acts of hate against Jewish people, counted a total of 2,717 antisemitic incidents in 2021 — the highest figure since the ADL began tracking such data in 1979.
"With antisemitic incidents up across the board in nearly every category we track," said Mr. Greenblatt, "a whole-of-government, whole-of-society approach will be needed to address these extremely disturbing trends." — Reuters