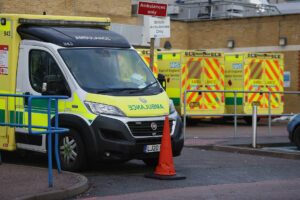 Doctors quit Britain's NHS for a career in business
THOUSANDS of junior doctors are on strike this week, complaining of low pay and poor working conditions in Britain's National Health Service (NHS).
Many of the medics on picket lines are also thinking of walking out of their careers entirely — and the world of finance and business offers an unexpected but increasingly attractive option.
Jae-Young Park spent six years studying to be a doctor at the University of Oxford but after five months as a newly-qualified medic, he left the NHS to work in investment banking. His salary more than tripled overnight.
"I think the NHS was certainly what drove me out of it," Mr. Park says.
It's not an isolated case. A poll published by the British Medical Association at the end of last year found that 2-in-5 junior doctors plan to leave the NHS once they're offered another job, while 79% "often think about leaving the NHS." Pay, deteriorating conditions and increasing workloads were the main gripes, according to the survey.
Of those actively planning a new career, the most popular option was management consulting, with the pharmaceutical sector also a key destination.
Health unions have accused the government of imposing years of real-terms pay cuts on NHS staff, creating a demoralized workforce and high levels of vacancies.
Following a series of alarming strikes by nurses, ambulance workers and other employees since December, health unions recently called off further action in order to pursue a pay deal with ministers — but junior doctors are not part of the talks.
"Thanks to this government you can make more serving coffee than saving patients," the BMA argues in a new campaign. Its poll showed that a majority of junior doctors found it difficult to pay their utility bills last year.
Jobs website Indeed says that doctors are 20% more likely to explore options outside their field compared to the average job-seeker, adding that interest in banking and finance has increased.
PRESSURE, NOT STRESS
The emotional toll of working in the NHS is also pushing doctors away, according to Mark Jenkins who quit medicine to become a management consultant at Boston Consulting Group.
"As a doctor, there is the personal anxiety about: is someone going to die because I made the wrong choice and I don't have enough resources," says Mr. Jenkins, who has since moved jobs again to become a director at health app Oviva.
"In consulting, yes, a client is going to be really annoyed at you if you don't deliver a presentation by 9 a.m. the next day but ultimately, you're worried about your personal success. I call that pressure, not stress."
BCG and other management consulting firms such as McKinsey are offering medical students a taste of work outside the health sector, with an internship that can form part of their training.
The proportion of applicants from medical backgrounds to entry level positions at Carnall Farrar, a boutique management consultancy specializing in health care and life sciences, almost doubled from in the year to 2022. The firm says many medics want to be fairly rewarded for their work.
WAR FOR TALENT
The UK economy is suffering from a tight labor market and a war for talent, with firms keen to hire bright graduates. Medics have many desirable skills like the ability to absorb and apply new knowledge, according to Ian Dougal, dean of academic affairs at Hult International Business School.
"I think very few professions will teach you to be able to work under pressure, like a front-line medic," says Mr. Dougal, who keeps a special eye out for doctors wanting to join his MBA program.
Medics often lack knowledge of the financial system, but they can quickly catch up and compete in the City, according to Park, who joked that he didn't understand the term Ebitda when he first arrived at the bank.
Maura Jarvis, the UK lead for workforce transformation at consultancy Mercer International, Inc., says that ultimately, financial reality bites. A lot of junior doctors "went into those roles because it was a calling and a purpose," she says. "But if you're not paying the bills, that creates very different choices." — Bloomberg