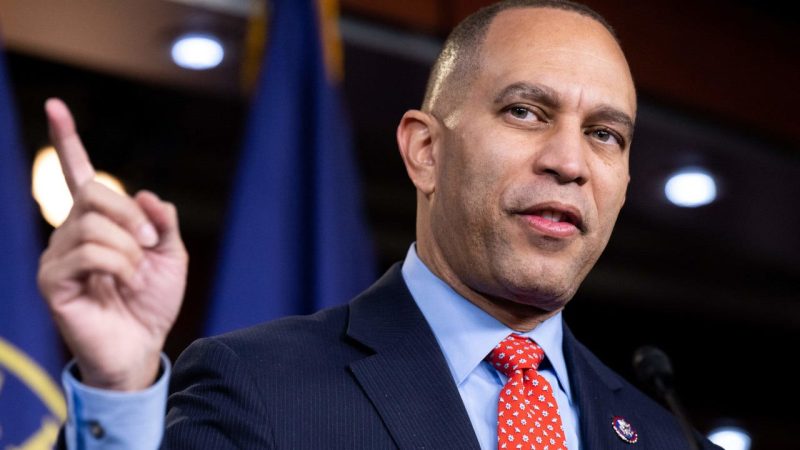 Top Dem Jeffries has 'full faith and credit' in President Biden amid classified documents drama
House Minority Leader Hakeem Jeffries said Thursday he has 'full faith and credit in President Biden' after it was revealed there is a second batch of classified documents from his vice presidency discovered. 
The White House revealed this week that classified documents were discovered at the Washington, D.C., office for Biden's think tank, the Penn Biden Center for Diplomacy and Global Engagement, in early November. 
On Wednesday, news broke that another trove of classified documents from Biden's time as vice president had been discovered. It was revealed Thursday that the second batch of documents was found in the president's garage in Wilmington, Delaware.
Jeffries, D-N.Y., said during a press conference said he has not been briefed on the matter, but trusts the president.
'I have full faith and credit in President Biden,' Jeffries told reporters Thursday.
'I believe that he's doing everything to take the appropriate steps to determine what happened and how to move forward in a responsible fashion,' Jeffries continued. 'And I'm confident that he will continue to do so.'
The White House said documents at the Penn Biden Center in Washington, D.C., were discovered by the president's lawyers days before the election as they cleared office space. They were immediately turned over to the National Archives. The Department of Justice is conducting an investigation into the matter.
Biden said Tuesday he was surprised to learn that his classified documents were discovered and claimed he does not know what they regard.
'I was briefed about this discovery and surprised to learn that there were any government records that were taken there to that office,' Biden added. 'But I don't know what's in the documents. My lawyers have not suggested I ask what documents they were.'
This post appeared first on FOX NEWS