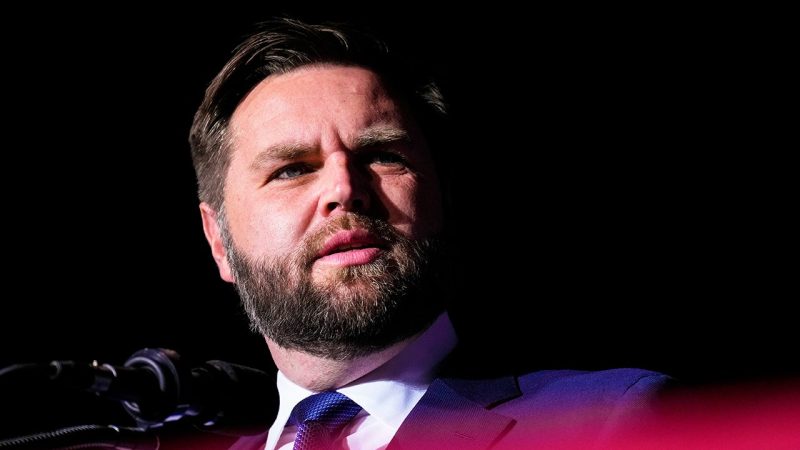 Vance demands Biden admin turn over 'full crosscutting' report on security assistance provided to Ukraine
EXCLUSIVE: Freshman Republican Sen. J.D. Vance is set to demand that the Biden administration release a 'full crosscutting' report on the exact amount of security assistance the United States has provided to Ukraine since February 2022 in order for lawmakers to 'make a determination on the wisdom' of additional spending.
Fox News has exclusively obtained a letter that Vance, R-Ohio, intends to send to the White House Office of Management and Budget Director Shalanda Young.
The letter is currently circulating among Republicans in both the Senate and the House of Representatives. GOP Rep. Dan Bishop has signed onto the letter, and others may follow.
'Congress has shelled out more than $100 billion in support to Ukraine since last February, yet we have zero insight into exactly what this money is being spent on,' Bishop told Fox News Digital. 'The American people deserve to know exactly where their money is going.'
'A detailed, transparent accounting is an absolute necessity,' he added.
Vance's letter points to the most recent omnibus spending bill, which brought the total budget authority for Ukraine and countries 'impacted by the situation in Ukraine' to $114 billion.
'However, this amount does not include reprogramming, and transfers, for which the administration has asked for additional authorities in each of its four supplemental requests, dating back to March 2, 2022,' Vance wrote. 'Taken together, the four Ukraine supplemental spending bills passed since the escalation of the Ukraine/Russia conflict in February of 2022 amount to arguably the 4th largest discretionary appropriations bill.' 
Vance pointed to the fact that inspectors general within the Department of Defense have raised questions about the Pentagon's 'budget execution practices in regards to these funds.'
Vance said that, 'fortunately,' the last omnibus required a report to Congress 'describing the United States security assistance provided to Ukraine since February 24, 2022… including a comprehensive list of defense articles and services provided to Ukraine and the associated authority and funding used to provide such articles and services.' 
That report is due 'thirty days from the effective date of the bill,' but Vance said that it was not sufficient.
'A listing of defense articles and services does not include the full picture of expenditures on areas such as budget support for the Ukrainian government and economic assistance,' Vance wrote. He said that, 'for these reasons, we ask that this report be expanded upon by OMB and made public in order to allow Representatives and Senators to make a determination on the wisdom of additional expenditure in this area.'
Vance said the report should include a 'full accounting of total budget authority,' including obligations, apportionments and outlays for each account.
'The report should also include a list of countries the administration considers 'impacted by the situation in Ukraine' and an accounting of budgetary resources the administration intends to provide to each of these countries in response to the situation in Ukraine,' Vance wrote.
Vance demanded a response by Feb. 7 and thanked OMB for its 'continued commitment to transparency and to ensuring that the United States Congress has the information it needs to exercise its constitutional responsibilities.'
'It's very simple: the Biden Administration is required by law to send Congress this report at the end of the month,' Vance told Fox News Digital when asked about the letter. 'They should expand the report to tell us the amount of money we've sent to Ukraine, including comprehensive information showing how those funds were used.'
'I do not intend to sit back and allow the Biden Administration to keep this information under wraps,' Vance said. 'I expect to receive this report by the deadline in this letter.'
The letter comes just days after the U.S. committed the single largest defensive aid package to Ukraine yet after pledging $3 billion in additional security assistance as it looks to change the 'dynamic on the battlefield.'
The latest draw-down includes an array of military vehicles for combat like 50 Bradley Fighting Vehicles, 100 Armored Personnel Carriers, 55 Mine Resistant Ambush Protected Vehicles and 138 High Mobility Multipurpose Wheeled Vehicles.
Ukrainian President Volodymyr Zelenskyy has repeatedly pleaded with Western allies to send his troops tanks as brutal ground warfare persists in Ukraine's eastern regions, particularly in Luhansk and Donetsk.
This post appeared first on FOX NEWS