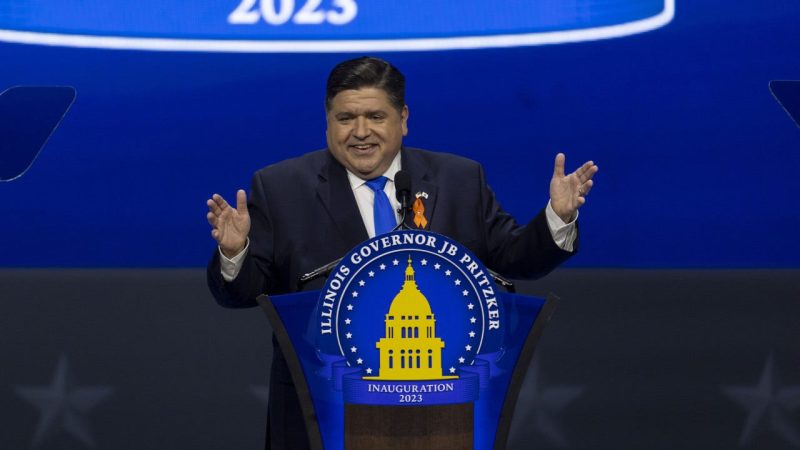 Second Amendment groups warn of Illinois gun control bill heading to governor's desk
Gun rights groups are promising to fight a proposed semiautomatic weapons ban in Illinois after the state Senate advanced gun control legislation championed by Democrats.
The Illinois Senate on Monday passed its version of the 'Protect Illinois Communities Act,' which would ban so-called assault weapons and high-capacity magazines from being manufactured or sold in the state. The bill also makes devices intended to increase the rate-of-fire of semiautomatic weapons illegal, and increases the duration of a firearm restraining order from six months up to one year under the state's red flag law. 
'Gun violence is an epidemic that is plaguing every corner of this state and the people of Illinois are demanding substantive action,' said Democratic Senate President Don Harmon. 'With this legislation we are delivering on the promises Democrats have made and, together, we are making Illinois' gun laws a model for the nation.'
The legislation would ban the manufacture or possession of dozens of brands and types of rapid-fire rifles and pistols, .50-caliber guns and attachments that enhance a weapon's firepower. Those who currently own such guns would not be required to surrender them but would have to register them with the Illinois State Police — including serial numbers, a provision initially removed by the Senate but restored after House proponents' objections.
Merchants, who are federally licensed to sell such weapons, would be able to dispose of their current inventory by returning them to manufacturers or selling them.
In total, the bill would ban the future sale of nearly 100 different kinds of semi-automatic pistols, shotguns and rifles, which the legislation defines as 'assault weapons.' 
The National Rifle Association and other Second Amendment advocates say the legislation bans many commonly-owned rifles and goes beyond previous attempts to outlaw certain firearms.
'Not only does this tyrannical proposition infringe on the rights of all Illinois citizens, but it is also extremely dangerous,' Gun Owners of America said in a call to action opposing the bill. 
'These commonly owned semi-automatic firearms are used countless times every year to save lives and deter crime. Banning them will only prevent law-abiding citizens from purchasing the best firearm to defend themselves. Not to mention, the requirement to register currently owned firearms is vehemently unconstitutional,' the group argued. 
The Illinois State Rifle Association said a more apt title for the bill would be, 'bending and ignoring the constitution in an effort to take away your Second Amendment rights to bear arms in Illinois.' The group has said it will take legal action if the bill becomes law. 
A ban on semiautomatic weapons was a campaign priority for Illinois Gov. J.B. Pritzker, particularly after a gunman killed seven people and injured 30 others in a July 4th parade shooting in the Chicago suburb of Highland Park.
Republican lawmakers were opposed to the bill, but were overwhelmingly outnumbered in the 34-20 vote Monday. State Sen. Darren Bailey, a former GOP candidate for governor, predicted the Illinois Supreme Court would find the measure unconstitutional and said he and 'millions of other gun owners in this state will not comply.' 
Harmon welcomed challenges to the law in remarks on the state Senate floor Monday.
'The weapons on this list are designed to do one thing and one thing only: kill people in a horribly brutal, vicious way,' he said, adding, 'we'll see you in court.' 
The Protect Illinois Communities Act must go back to the state House for reconciliation before it is sent to Gov. Pritzker's desk. 
The Associated Press contributed to this report.
This post appeared first on FOX NEWS