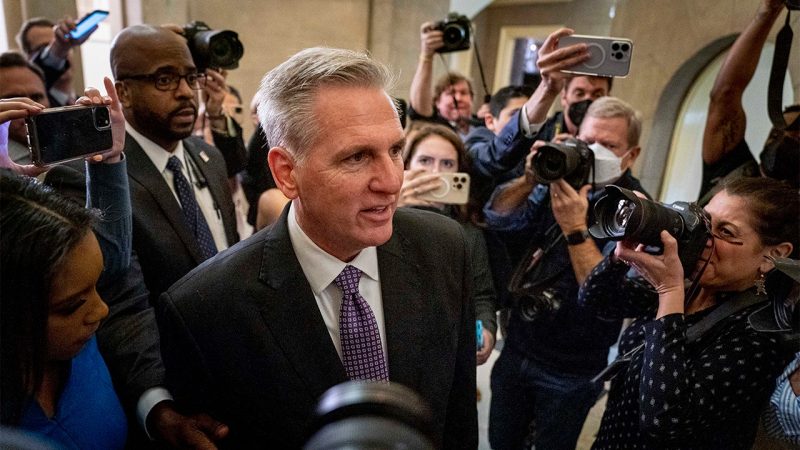 McCarthy appears to lose 7th speaker ballot despite offering more concessions to defectors
Rep.-elect Kevin McCarthy, R-Calif., is on track to lose the 7th round of voting for House speaker Thursday, failing to sway Republican holdouts despite hours of negotiations and concessions.
McCarthy offered more concessions to members of the House Freedom Caucus (HFC) opposing his bid for speaker since the House adjourned Wednesday evening. He has discussed granting the HFC more positions on the House Rules Committee, holding a vote on congressional term limits, as well as lowering the threshold for forcing a vote to remove the speaker to just one majority-party lawmaker.
McCarthy has repeatedly failed to secure the 218 votes required to become speaker in seven separate roll calls since Tuesday. Nineteen Republicans opposed him in the first two votes, but his opposition grew to 21 after the HFC nominated Florida Republican Byron Donalds on Wednesday. Indiana Republican Victoria Spartz also switched her vote from McCarthy to 'present.'
Rep.-elect Matt Gaetz, R-Fla., cast a surprise vote for former President Donald Trump when the House reconvened Thursday after he previously supported Donalds. The speaker does not have to be a member of Congress to be elected.
Meanwhile, House Democrats have remained united behind incoming House Democratic Leader Hakeem Jeffries of New York.
McCarthy came up short even after Trump called on House Republicans to back McCarthy, telling Fox News Digital this week that the holdouts are playing a 'dangerous game.'
Former Vice President Mike Pence also called on Republicans to support McCarthy, tweeting Wednesday, 'Urging Every Republican in [the House GOP] to support my friend, Kevin McCarthy as the next Speaker of the House.'
The House failed on three votes for speaker Tuesday, then adjourned. On Wednesday, the chamber first adjourned until 8 p.m. ET following unsuccessful negotiation efforts from McCarthy. After gaveling in at 8:00 p.m., the majority of lawmakers voted immediately to reconvene Thursday at noon.
Many of GOP holdouts have previously praised McCarthy's leadership and even accepted re-election campaign money from him during last year's midterm elections. Several told Fox News Digital on Wednesday that the stalemate is not personal.
'This is about who can reach 218 votes,' Donalds senior adviser Harrison Fields said. 'The Congressman has respect and a good relationship with Mr. McCarthy, but he does not have the votes to get across the finish line. After six rounds of voting, how much longer will we do the same thing again before looking for alternatives?'
'Congressman Bishop has no vendetta against Kevin McCarthy,' Rep.-elect Dan Bishop communications director Allie McCandless told Fox News Digital. 'At this moment, he does not think that he is the right candidate for Speaker.'
Fox News' Anders Hagstrom contributed to this report.
This post appeared first on FOX NEWS